Ali Home
Stylish Apartment in Sorrento Old Town
Sorrento Old Town, Italy
6 Guests | 2 Bedrooms | 2 Bathrooms | Private Terrace with View
Sparkling Clean
Our specialised team thoroughly clean and disinfect each property before and after every stay.
Entire home | Privacy & Comfort
You'll have the complete apartment and private terrace to yourself.
Professional Property Management
Professional Service, Personal Concierge, 24/7 Availability.
Free Cancellation
Cancel before 12:00PM the day before your arrival and receive a full refund.
Description
This Stylish and Comfortable Sorrento Apartment in located in the heart of the Old Town, in a vibrant and beautiful street, where you can find some of the most authentic people and historical sites. Great for Families or Groups of Friends as the apartment is complete with 2 Bedrooms, 2 Bathrooms, Living Room, Kitchen and Small Terrace that overlooks the rooftops of Sorrento Old Town, all cleaned and sanitised to a high standard by our specialised team. The apartment is also a perfect walking distance from all of the main attractions and transport links of Sorrento.
Read more about Ali Home - Luxury Apartment in Old Town
Our Central and Private Sorrento Apartment is completely soundproofed, and fully furnished.
Bedroom 1

Deluxe Queen Sized Bed with Fresh Linens and Storage Space

En-suite Bathroom with Shower, Clean Towels & Complimentary Toiletries

Balcony with View of Orange and Lemon Gardens

Air Conditioning

Free Wi-Fi 24hrs

Flat Screen TV
Bedroom 2
Deluxe Queen Sized Bed with Fresh Linens and Storage space

Air Conditioning

Free Wi-Fi 24hrs

Flat Screen TV
Kitchen: Fully equipped kitchen with all facilities and amenities including a dishwasher, microwave, oven, fridge and more, great if you're opting to enjoy your breakfast or lunch at home in your own privacy and company. 
Living and Dining Area: This Open Lounge Area also has a Dining Table and Chairs for 6 guests, as well as also having a Double Sofa Bed that can accommodate and additional two guests. There is also a washing machine and laundry facilities available, perfect if you're staying for more than a few days. The Living Area is also connected to the main terrace.
Terrace with outdoor furniture: You are welcome to use the large and private terrace area to enjoy a dinner or drinks should you prefer not to dine outside. As the apartment has kitchen facilities you can also choose to enjoy your breakfast here with the beautiful view.
2 Queen Beds
Queen Sofa Bed
Clothes hanger
A/C
Towels
Hairdryer
Friendly reception
Info point
Cooking tools
No smoking
Dishes
Hand soap
Small pets
Condo
Terrace
Shower
Coffee machine
Smart TV
Stairs
Tea
Fire extinguisher
Curtains
Our Central Sorrento Apartment is located in a wonderful building located in a very safe area in the Old Town. You can find the apartment on the 2nd floor, unfortunately as this is an older building there is no elevator which is also very rare to find in other buildings located in this area. You will have complete private access to the property and there are also no shared areas or common spaces with other guests. Private and Secure parking is also available off-site for an extra fee.
House Rules and Things to Note
In light of the recent events we have put into place strict and government advised social distancing measures as well as high quality professional cleaning and sanitisation services, our goal is to make you feel as safe and protected as possible during your stay with us. As we have no reception, we have now set up a contact-less system in which you can register, make payments, check in and check out to minimise your contact with others. Should for any reason we would have to come to assist you of course we will be fully equipped in the protective face masks and gloves, as well as maintaining a safe distance.
House Rules
Check in: 3:00 pm – 8:00 pm
Check out before: 10:00 am
No Parties / Events
Small Pets Allowed
No Smoking
Damage and Incidentals
You will be responsible for any damage to the rental property caused by you or your party during your stay.
Parking
Private and Secure parking is also available off-site for an extra fee.
Flexible Cancellation Policy
Cancel up to 24 hours before check-in to receive a full refund.
Terms and Conditions
Extra costs to be kindly provided at the check in:
City Tax
Pets Fee
Cleaning fee
Late check in
Best Price Guaranteed
We always guarantee you the best price available booking directly with us
Our Cozy and Central Sorrento Apartment is located in the Old Town, known for being the most vibrant and authentic area with plenty of historical and architectural attractions to visit, it's also within walking distance to the local restaurants, bars, shops and beaches, great if you're travelling as a family or friends. You can find a pharmacy, supermarket and grocery store all within 1 min walk of the property which is great if you're needing to purchase some essential items if you're choosing to dine at home or if you're looking to explore and do not enjoy walking or travelling very far, especially if you have small children with you.
Distance to
Beaches: 5mins walking

Corso Italia (Main Street): 1min walking

Piazza Tasso (Main Square): 6mins walking

Train/Bus Station: 10min walking

Sorrento Harbour:6mins walking

Bus Stop: 3mins walking
We also have our own professional drivers here in Sorrento, who are very experienced and English speaking, so if you're wanting to opt for private transportation, this is definitely something we can accommodate and arrange for you.
Have a question about this home?
We will connect you directly to our specialised team of travel designers who offer a contemporary concierge service to help you plan your entire trip and help you discover which property is perfect for you.
★★★★★
Erin, November 2019
The location is amazing and I cannot say enough wonderful things about Giuseppe. He was extremely fast responding to messages leading up to our stay and while we were there. He gave us wonderful restaurant recommendations; definitely check out Parruchianos!!! He helped us book and plan many drivers for day trips, to and from the train station, etc. He was extremely accommodating and helped us with everything we needed! His place is very clean with a great view. There are multiple flights of stairs up to it without a lift, so keep that in mind for luggage! The wine shop next door has a great selection and very helpful employees, and open late! We would definitely stay here again! We LOVE Sorrento!
★★★★★
Russ and Anne, June 2019
What a lovely modern apartment in a great location! Easy walk to restaurants, shopping, and the main piazza. The living space and bedrooms are well furnished and comfortable. The entire place was very clean and welcoming. This is a great apartment/location to base your Amalfi coast adventure from.
★★★★★
Robert, April 2019
My family (wife and 2 sons) stayed at Giuseppe's place in early April. The apartment was fantastic – great location, very clean, spacious. My 2 sons each had a place of their own to sleep (one in a queen size bed in the 2nd bedroom, and the other on the fold-out couch), and my wife and I had the master bedroom with our own bathroom. Location was right in town, but quiet enough that we enjoyed a good night's sleep. We enjoyed being able to walk around downtown Sorrento, and be so close to our apartment. The place is on the 3rd floor, which didn't bother us, but you need to be prepared to walk the flights of stairs and carry your bags up. Giuseppe and (I think) his brother Gianpiero were very communicative and had great suggestions for things to do around town, and the easiest ways to get from one place to another. Thanks Giuseppe for a great stay!
Sant'Agnello, Sorrento Coast
6 Guests · 3 Bedrooms · 3 Bathroom · Garden and Pool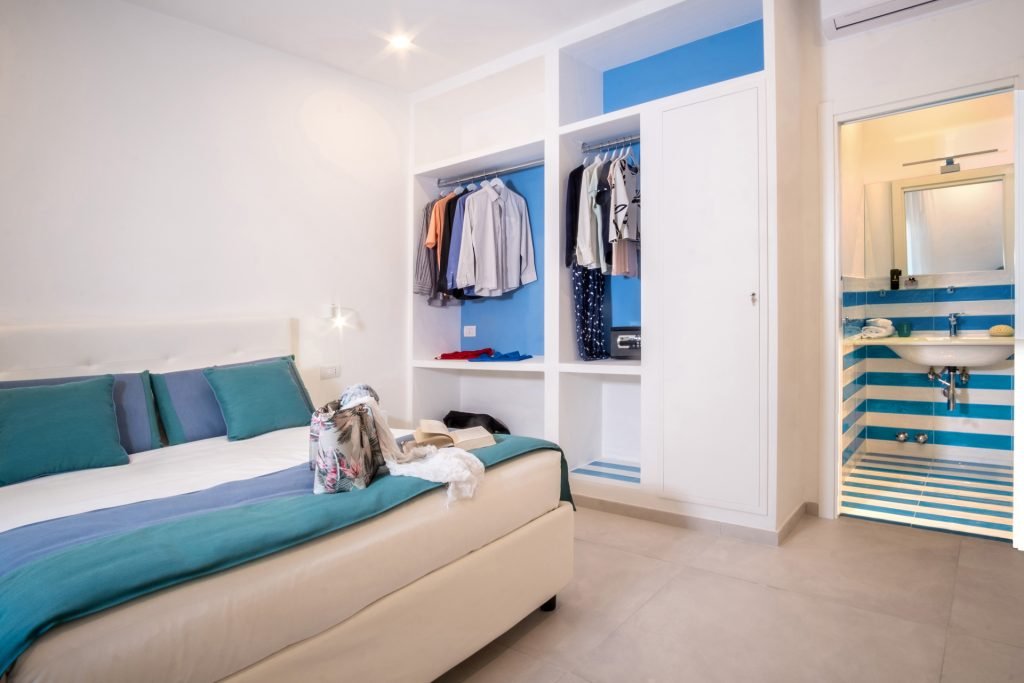 Sorrento Centre
10 Guests · 3 Bedrooms · 3 Bathrooms · Balconies