Top Things to Do in Amalfi Coast with Kids
by Giuseppe Morvillo
Giuseppe is a Property Manager, Travel writer & Media Planner who has born and raised in Sorrento, Italy.
Looking to visit Sorrento, Capri and the Amalfi Coast in 2023 but wanting to know what the current situation is regarding COVID-19? Discover our article below to find out how safe the Amalfi Coast is, information on Face Masks and Social Distancing as well as all of the Latest Updates.
by Giuseppe Morvillo
Giuseppe is a Property Manager, Travel writer & Media Planner who has born and raised in Sorrento, Italy.
Visiting Sorrento and the Amalfi Coast with Children? Not to worry, there are a number of wonderful activities and sites to visit, that are great for families with children. From visiting the famous Amalfi Coast towns and Cooking Classes to Water Sports and Discovering the Roman Ruins of Pompeii and Herculaneum, there's something for everyone.
Best Things to Do in Amalfi Coast with Children
Planning on visiting Sorrento with your family or booking a holiday in the Amalfi Coast this year? The South of Italy is very welcoming, especially for families with children of all ages and is a top family holiday destination. There are plently of activities to keep your children entertained no matter what their age, from visiting the colourful towns on the Amalfi Coast, to visiting the historical ruins of Pompeii and Herculaneum you will be spoilt for choice in which activities to do first.
Looking for the best beaches to visit for families while in Sorrento? You're in luck! Sorrento offers a number of beautiful beaches and bustling marina's, perfect for families who want to spend a day at the beach. In the main bay of Marina Piccola there are four main bathing establishments:
Bagni Salvatore
Leonelli's Beach
Marameo Beach
Peters' Beach
You also have the option to rent sun beds, deck chairs and umbrellas as well as enjoying your lunch here at the beach restaurants. These beach clubs are great for families as they are located very close by to showers, bathrooms, food establishments and more, making it very comfortable and easy for families with children to spend the whole day there.
OUR TOP SUGGESTIONS
Best Beaches in Sorrento | Local Tips
Visit the Towns of the Amalfi Coast
With its great location and transport links it's the main reason why Sorrento is one of the best towns to stay in on the Amalfi Coast, especially those travelling as a family with children. Discover the towns of the Amalfi Coast with our selection of both Private and Shared tours, you'll have the oppourtunity to visit the famous towns along the Amalfi Coast in one complete day by car or by sea. Considered one of the most beautiful stretches of coast in the world, the Amalfi Coast offers you a number of ways to take amazing family pictures, visit beautiful sites and take in a new culture all while making long lasting family memories together.
Our Amalfi Coast Tours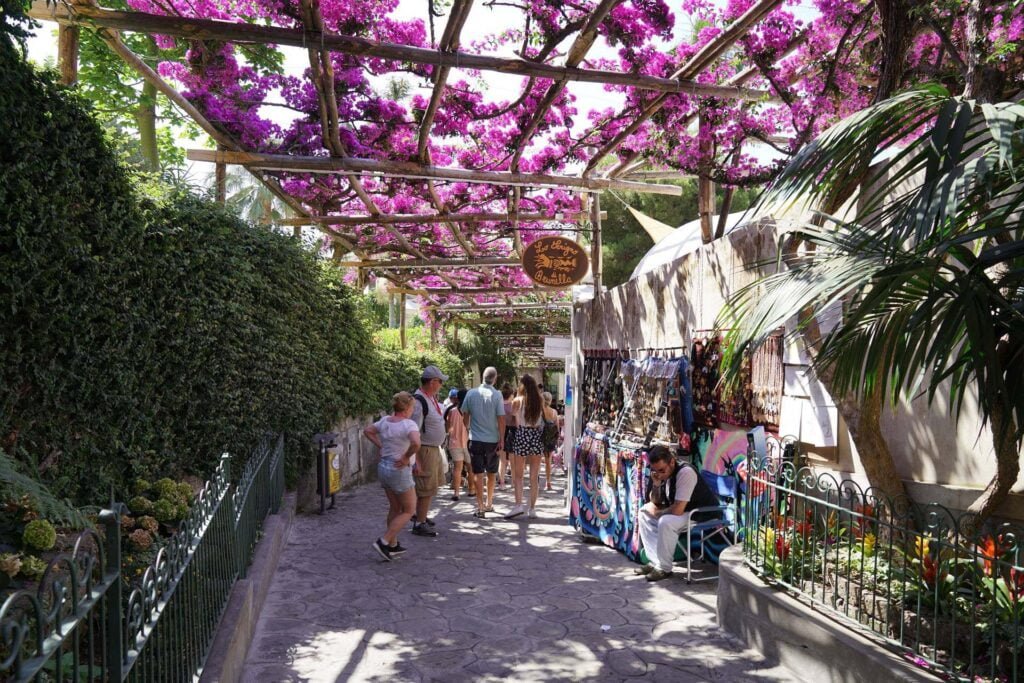 Explore Sorrento Coast with Kayak
Spend your day enjoying some water sports and admiring the beauty of the Sorrento Coast, with our family friendly Kayak tour. This unforgettable experience is the perfect day out to create some great, long lasting memories as a family. Your journey begins in Sorrento's Marina Grande where our Professional Instructors will equipt you will all the necessities for this activity as well as giving you a mini lesson in how to Kayak, this experience is also better suited for those 15 year's old and up.
After departing from Marina Grande you'll make your way to the Baths of the Queen Giovanna, a hidden gem of Sorrento where you can spend some free time swimming in the cool waters and exploring the Roman Ruins of this natural bath. This is truly one of the most unique ways you can admire the Sorrento Coast all while keeping active at the same time.
HAND SELECTED EXPERIENCES
Qualified Instructor | Bath of Queen Giovanna
Make Pizza at the Ultimate Pizza Cooking School
Have you always wanted to learn how to make Pizza like a true Italian? While on your holiday in Sorrento and Amalfi Coast why not spend your day at the ultimate pizza cooking school! Learn how to make a pizza of your choice by the locals themselves, what way is better than this to learn. This 4 hour tour also inlcudes welcoming drinks, pizza lesson, dessert and drinks as well as pick up and drop off included to and from your accommodation or hotel.
Our Cooking Classes include:
Visit Pompeii Ruins with Naples Pizza Experience
For families and children who have a love of history and culture, our Pompeii Ruins and Naples Pizza Experience is the perfect choice for you. We have specifically curated this tour to provide you with a educational packed morning at the ancient Pompeii Ruins and then the afternoon in the famous city of Naples where you will also enjoy the iconic Neopolitan pizza in the heart of the city. Throughout the day you will be transported by our Professional and English Speaking Driver which includes a pick up and drop off to your Hotel or Accommodation in Sorrento.
Spend the day discovering the Herculaneum Ruins
Another great option for lovers of history! A visit to the famous Herculaneum Ruins is not to be missed, these Roman Ruins are also recognised as a UNESCO world heritage site after being buries by the eruption of Mount Vesuvius in 79 A.D. Spend half a day exploring these famous ruins, a great option for those not wanting to spend an entire day exploring, especially when travelling with small children or if you're limited for time while in Sorrento. 
The best way to fully be immersed in this experience is with a guide as they have expert knowledge on the history of this famous archeological park, another great advantage of hiring a guide is that you will be able to skip any queue and have a fast track access in entering the site. During the Herculaneum tour you will also have the option to add on a child friendly guide who will keep your children entertained throughout the tour.