Belvedere Luxury Villa
Luxury Sorrento Villa with Garden and Pool
Sorrento, Italy
6 Guests | 3 Bedrooms | 2 Bathrooms | Garden with Pool
Luxury Hospitality by SORRENTO VIBES
Sparkling Clean
Our specialised team thoroughly clean and disinfect each property before and after every stay.
Entire Villa | Privacy & Comfort
You'll have the complete villa, private pool and terrace to yourself.
Professional Property Management
Professional Service, Personal Concierge, 24/7 Availability.
Free Cancellation
Cancel 14 Days before your arrival and receive a full refund.
This Luxury Sorrento Private Villa with Swimming Pool and Solarium is perfectly located on the beautiful hills of Sorrento and only a few minutes by car from the city centre, here you can enjoy the breathtaking view of the entire Gulf of Naples. This Modern Family Villa can accommodate up to 6 people and is complete with 3 bedrooms, 2 bathrooms, 2 parking lots, Pool, Kitchen, Living Room and Solarium all cleaned and sanitised to a very high standard by our specialised team. Immersed in Mediterranean nature in a large outdoor private area, the villa also has an outdoor kitchen and BBQ area great for families or groups of friends wanting privacy and to spend evenings at home.
Read more about Belvedere Luxury Villa
Our Private and Modern Villa is divided into two floors and can accommodate up to 6 guests, a great choice for families or a group of friends, the Villa is complete with:
Bedroom 1: King Bed with Fresh Linens, Cooling Fan, Free Wi-Fi 24hrs, Wardrobe and Storage Space, Flat Screen TV, Large sliding doors where you can directly access the Garden Area and admire the Sea View
Bedroom 2: Queen Bed, Fresh Linens, Cooling Fan, Free Wi-Fi 24hrs, Wardrobe and Storage Space, Mirror, Flat Screen TV, Large sliding doors where you can directly access the Garden Area and admire the Sea View
Bedroom 3: Two Single Beds with Fresh Linens, Cooling Fan, Free Wi-Fi 24hrs, Wardrobe and Storage Space, Flat Screen TV
Bathrooms: All bathrooms are complete with a large Shower, Fresh Towels and Complimentary Toiletries.
Kitchen and Living Room: The Kitchen is fully equipped with all facilities and amenities to make a traditional Italian dinner. You can also find a beautiful dining area overlooking the breathtaking view of the Gulf of Naples, the perfect place to enjoy your breakfast. In the living room you can find comfortable sofas, Air Conditioning, 72" Last Generation Wide Screen Plasma TV with Music Sound System, Fireplace, Dining Table and Chairs as well as access to the outdoor terrace with view which also includes comfortable seating areas where you can relax.
Outdoor Terrace & Private Garden: The fully furnished veranda is complete with comfortable seating, Gazebo with Dining Area that can accommodate up to 10 people as well as a Private Garden area with Pool and Solarium. On the terrace you can also find a washing machine area with all the necessary laundry facilities. You are welcome to use the private terrace and BBQ areas to enjoy a dinner or drinks should you prefer not to dine outside and instead enjoy your meal in the comfort of your accommodation and in the privacy of your own company and as the apartment also has kitchen facilities you can also enjoy your breakfast or lunch here. If you're not looking to explore the city very much you can still enjoy the best of the beautiful weather by the swimming pool and solarium area in the luxury of your own privacy.
Outside Veranda, BBQ & Dining Area
✓ 1 King Bed
✓ 1 Queen Bed
✓ 2 Single Beds
✓ Air Conditioning
✓ Kitchen
✓ Sea Views
✓ Smart TV's
✓ Big Dining Area
✓ Wi-Fi
✓ Fireplace
✓ Soundproofing
✓ Washing Machine
✓ Iron
✓ Info Point
✓ Reading Area
✓ Fire Extinguisher
✓ Private Pool
✓ Private Garden
✓ BBQ Facilities
✓ Outdoor Kitchen
✓ Parking On-Site
✓ Terrace with Sea View
Our Luxury Sorrento Holiday Rental Villa is a completely private and located on independent property, it also has two private parking lots great if you have hired a car for your vacation. The pool is available from May to September and will also be disinfected on a daily basis to ensure it is kept to the highest standard of cleanliness, as well as all of the other amenities. The Villa itself is immersed in beautiful Mediterranean nature, great for those looking for a tranquil and peaceful stay located very close to the city centre by car. Private and Secure Parking is available on-site.
House Rules and Things to Note
In light of the recent events we have put into place strict and government advised social distancing measures as well as high quality professional cleaning and sanitisation services, our goal is to make you feel as safe and protected as possible during your stay with us. As we have no reception, we have now set up a contact-less system in which you can register, make payments, check in and check out to minimise your contact with others. Should for any reason we would have to come to assist you of course we will be fully equipped in the protective face masks and gloves, as well as maintaining a safe distance.
House Rules
Check in: 3:00 pm – 8:00 pm
Check out before: 10:00 am
No Parties / Events
No Pets Allowed
No Smoking
Damage and Incidentals
You will be responsible for any damage to the rental property caused by you or your party during your stay.
Parking
Private and Secure Parking is available on-site.
Cancellation Policy
Cancel 14 Days before your arrival and receive a full refund.
Terms and Conditions
Extra costs to be kindly provided at the check in:
City Tax
Cleaning Fee
Late check in
Seasonal Heating Fee
The neighbourhood where this Modern and Private Luxury Sorrento Villa is located is very quiet and peaceful, ideal for those who like to reconnect with nature however it is not too far from the centre of Sorrento and will not leave you feeling isolated. About a minute's walk from the property itself you can find a lovely restaurant that serves local and traditional Italian cuisine which we highly recommend. If you have a car, after a short 5 minute drive going down into the city you will find supermarkets, a pharmacy, grocery stores and more.
Distance to:
Beaches: 10mins by Car

Corso Italia (Main Street): 5mins by Car

Piazza Tasso (Main Square): 5mins by Car

Train/Bus Station: 5mins by Car

Sorrento Harbour: 7mins by Car

Bus Stop to City Centre: 5mins walking
We also have our own professional drivers here in Sorrento, who are very experienced and English speaking, so if you're wanting to opt for private transportation if you do not have your own car, this is definitely something we can accommodate and arrange for you. One of our private driver can also be at your disposal if you have not already rented a car, for a special fare, as a private shuttle service.
Professional Travel Designers
Our travel designers will assist you in your arrival, departure and everything you desire to see and experience during your stay with us.
Luxury Spaces
Large open spaces fully equipped with luxury amenities, designed with attention to detail. Each property guarantees you complete privacy throughout your stay.
Premium Services
A team of local professionals, from personal chefs to masseurs, are available to satisfy your every need to make your stay the most luxurious.
★★★★★
Markus, September 2019
Wonderful home in a perfect location with views over Sorrento, Vesuvius and the Bay of Naples. Many great tips from Raffaele who also arranged trips for us to Capri and Pompei. And every morning the owner had hung a bag with fresh bakery goods on our door. What a great way to start the day!
★★★★★
Cassandra, August 2019
We had an amazing stay at this villa! There was 6 of us and it was very spacious.The pool, balcony and outdoor kitchen area were outstanding. The view is exceptional. Raffa was always quick to respond and very helpful. The pool was cleaned every morning by the owner, and he sometimes even us brought croissants. There is a local restaurant down the road (about a 5 min walk), which I highly recommend. We went on our first night, and ended up going back 2 more times in the week. Besides the restaurant there is not anything around and it is about a 10 minute drive into Sorrento. I would recommend renting a car or being prepared to taxi. We used who Raffa recommend for driving and he was great – gave us good prices too. We also found stairs/paths to walk into town, which would take us about 20 minutes to get into town but it has quite an incline. Overall, we had a great stay and would definitely recommend!
★★★★★
Dana, April 2019
Raffa's unit is as gorgeous as the description says. Fabulous location and view, a splendid ethnic house impeccably clean (and I don't say easily "impeccably clean" about anything). House is perfectly equipped – I would have loved to be able to use the fabulous BBQ on the terrace and the huge wooden table – but we had to visit the amazing places around, so we need to return just for this :)! On top of everything, Raffa definitely deserves his 'superhost' title: excellent communication before and after checking in, local tips, very proactive attitude for solving problems and a genuine willing for the guests to feel great in his house – and we did. We would definitely return in summer! Thanks, Raffa, it was great to meet you and to stay at your house!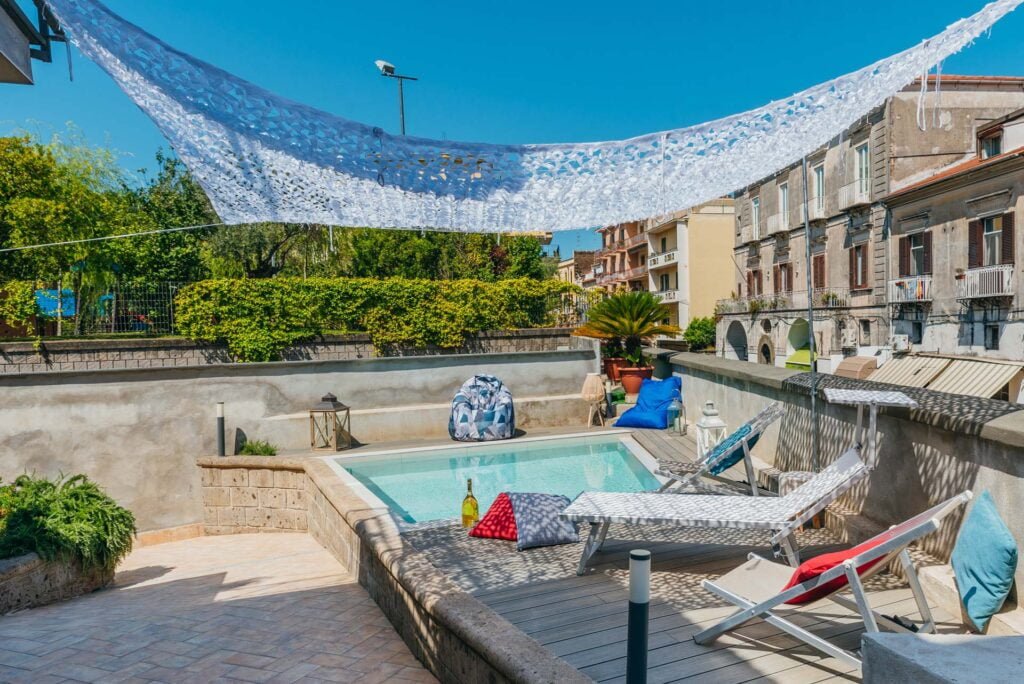 Sant'Agnello, Sorrento Coast
8 Guests · 4 Bedrooms · 4 Bathrooms · Garden and Pool