Villa Capri View
Private and Modern Villa in Amalfi Coast
Massa Lubrense, Italy
12 Guests | 5 Bedrooms | 5 Bathrooms | Private Terrace with Capri Sea View
Sparkling Clean
Our specialised team thoroughly clean and disinfect each property before and after every stay.
Entire home | Privacy & Comfort
You'll have the complete villa and private terrace to yourself.
Professional Property Management
Professional Service, Personal Concierge, 24/7 Availability.
Free Cancellation
Cancel before 12:00PM the day before your arrival and receive a full refund.
Description
This Private and Modern Villa is located in the heart of the magical Amalfi Coast in the nearby village of Marciano. Our marvellous and stylish Amalfi Coast Villa can accommodate up to 12 guests and is complete with 5 Bedrooms, 5 Bathrooms, 2 Kitchens, Large Living Room with access to 2 Terraces overlooking the Island of Capri with Solarium, all cleaned and sanitised to a very high standard by our specialised team. The perfect choice for those wanting to stay in a very central location of the Amalfi Coast.
Read more about Villa Capri View
Our stylish and modern villa is complete with:
Lower Floor:
3 Bedrooms (2 with Queen Sized Bed and 1 with Single Bed) and Fresh Linens

2 Bathrooms with Shower, Clean Towels and Complimentary Toiletries

Fully equipped Kitchen including Washing Machine with Laundry Facilities

Air Conditioning

Free Wi-Fi 24hrs
Upper Floor:
2 Bedrooms (Both with Queen Sized Bed) and Fresh Linens

2 En-suite Bathrooms with Shower, Clean Towels and Complimentary Toiletries

Lounge Area with Double Sofa Bed (2 guests) can be converted into bedroom

Single Bathroom that can be converted into an en-suite for additional bedroom

Fully equipped Kitchen with all essentials

Air Conditioning

Free Wi-Fi 24hrs
Living Room:
You can enjoy some time to relax in the large and spacious living room which includes a comfortable sofa bed, armchairs and a breathtaking view of Capri Island.
Kitchen:
There is also a fully equipped kitchen where you can find all of the essentials to make a traditional Italian meal including coffee machine, dishwasher and washing machine with laundry facilities. 
Private Terraces:
The villa also includes two beautiful terraces, one which can be used as a solarium complete with sun-beds and the other where you can view the Island of Capri right in front of your very eyes, great for spending quality time with your family to relax after a full day exploring Sorrento, Capri or the Amalfi Coast. You are welcome to enjoy your morning coffee and breakfast or lunch and dinner on the terrace as it is complete with a table and chairs. The terrace is the most unique part of the apartment, with the wonderful view on Capri Island and the bay of Marciano where you can relax and enjoy the beauty of this magnificent place.
Living Rooms and Dining Area
Two Private Terraces & Solarium
5 double beds
2 single beds
Clothes hanger
A/C
Towels
Hairdryer
Friendly reception
Coffee machine
Shower
Info point
Cooking tools
No smoking
Dishes
Hand soap
Shampoo
Elevator
Small pets
Optional breakfast
Cocktail
Terrace
Curtains
Slippers
Smart TV
Stairs
Tea
Lot of plants
Fire extinguisher
During your stay you will have complete access to the whole luxury villa including both private terraces and your very own parking space. You will also have access to the complete outside garden, great if you prefer to be in your own company while on holiday with family of friends.
House Rules and Things to Note
In light of the recent events we have put into place strict and government advised social distancing measures as well as high quality professional cleaning and sanitisation services, our goal is to make you feel as safe and protected as possible during your stay with us. As we have no reception, we have now set up a contact-less system in which you can register, make payments, check in and check out to minimise your contact with others. Should for any reason we would have to come to assist you of course we will be fully equipped in the protective face masks and gloves, as well as maintaining a safe distance.
House Rules
Check in: 2:00 pm – 8:00 pm
Check out before: 10:00 am
No parties / events
No smoking
Damage and Incidentals
You will be responsible for any damage to the rental property caused by you or your party during your stay.
Flexible Cancellation Policy
Cancel up to 24 hours before check-in to receive a full refund.
Terms and Conditions
Extra costs to be kindly provided at the check in:
Cleaning fee
City tax
Late check in
Our modern and spacious villa is in the ideal location for families of friends who want to enjoy the Amalfi Coast in a private and serene atmosphere but still within close distance to all of the main attractions and towns. The nearest town is Massa Lubrense, a local and authentic village where you can find shops, bars, restaurants, grocery stores and supermarkets. The villa is also located by some of the best restaurants on the Amalfi Coast and Sorrento Peninsula.
Distance to
Massa Lubrense: 7mins driving

Bay of Naples: 20mins walking

Beaches: 20mins walking
We also have our own professional drivers here in Sorrento, who are very experienced and English speaking, so if you're wanting to opt for private transportation, this is definitely something we can accommodate and arrange for you.
Have a question about this home?
We will connect you directly to our specialised team of travel designers who offer a contemporary concierge service to help you plan your entire trip and help you discover which property is perfect for you.
★★★★★
Joe, October 2019
This villa offers stunning views of the ocean and Capri and 3 private bedrooms with breathe taking views. Very spacious and modern with all of the amenities. Private parking was a major plus. Car is a must in order to visit Sorrento which is a 10-15 minute drive from the villa. But, very difficult to find even with GPS. Roads are extremely narrow so we suggest you renting the most compact vehicle they have available. Please do yourself a favor and contact the host for a meeting point prior to arriving to the villa so you can be escorted by Virginia and avoid any undue headaches or accidents.
★★★★★
Adrian, September 2019
Wow, will definitely stay there again, really really amazing place, only two flights of stairs, the views are absolutely incredible, better than the photos show, the house is huge, can easily fit two couples and there is even a third smaller bedroom for any kids, will def stay again when we go back. there is also 2 carspaces for your car to park for free. Raffa is great, helped us with any questions we had, great great host – 5 Stars!
★★★★★
Irene, July 2019
From the rooms you can admire one of the main archeological sites of Sorrento: the Ancient Roman Ruins.
Our contact was Virginia. she set up an amazing excursion to Capri for us and recommended some beautiful beaches. This villa is extraordinary! Very close to Sorrento. We are at La Primavera in Massa Lubrense and at Salvatore & Malfada In Tremini. We highly recommend these restaurants. Great food and service not to mention the views!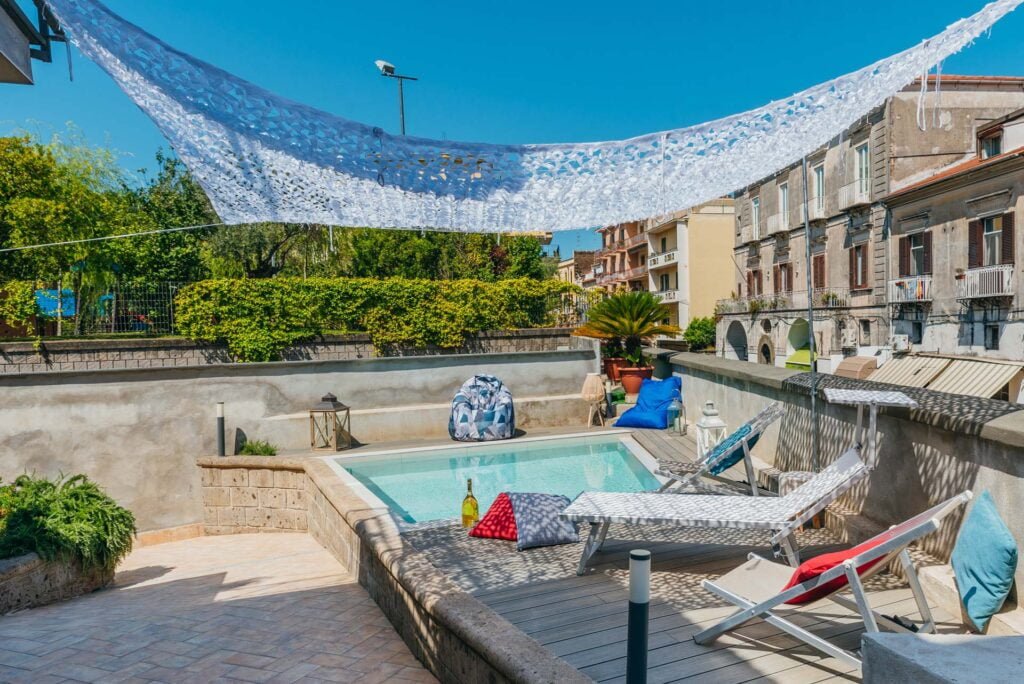 Sant'Agnello, Sorrento Coast
8 Guests · 4 Bedrooms · 4 Bathrooms · Garden & Pool